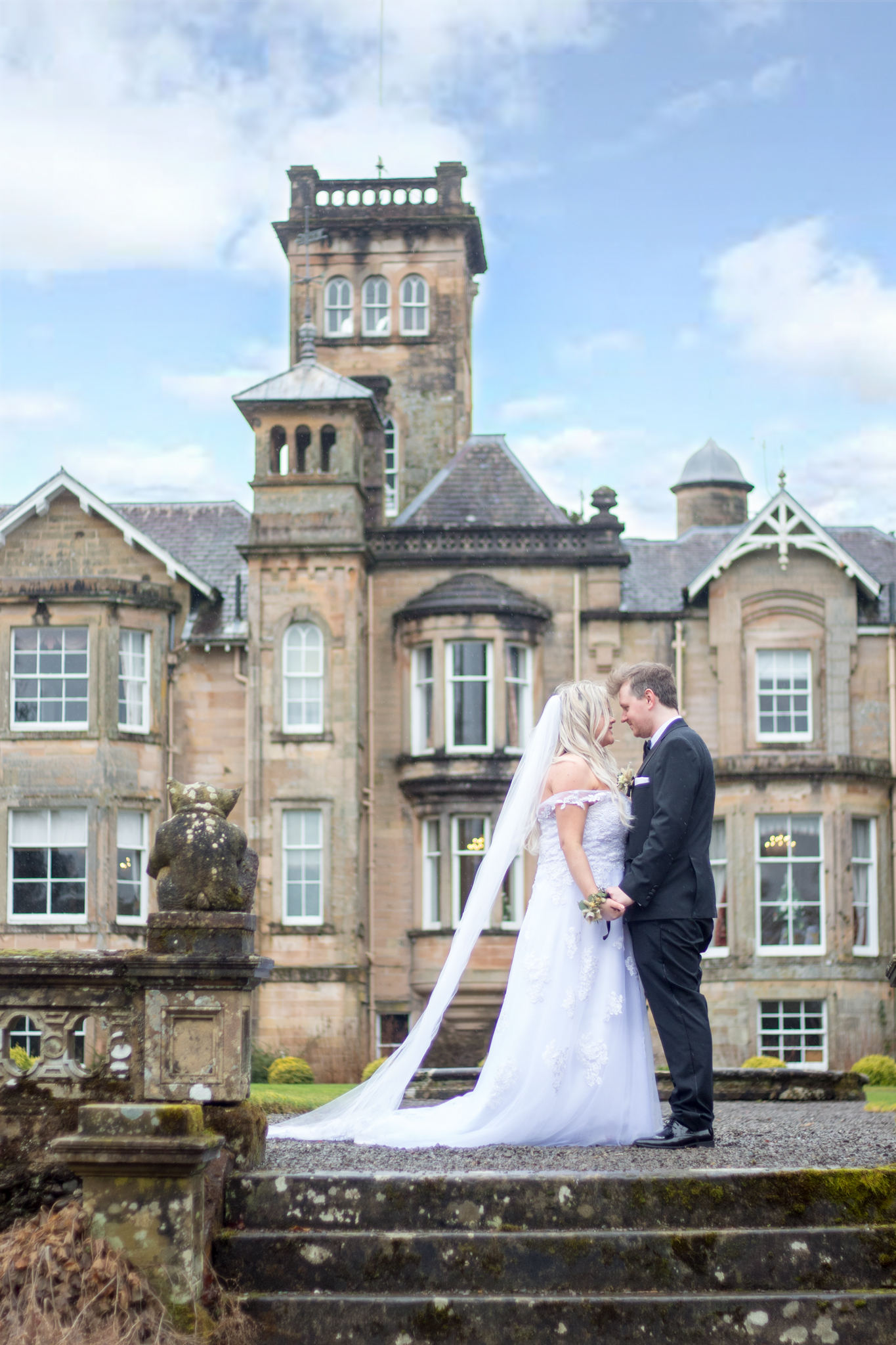 Last month on a Thursday afternoon Laura and Sean got married at Auchan Castle, near Moffat in Dumfries & Galloway in a Wedding described by the bride as "Laid back glamour" which was inspired by Las Vegas and Boho styling. I'm sure you'll agree this is perfectly reflected in the couples photographs.
Laura and Sean met in March 2013 on a night out where Laura admits she fell head over heels for Sean straight away. Four years later they were engaged in Rome after a little push from Laura who clearly knew what she wanted. "In March 2017, after living together for a year, I started looking into wedding ideas. Every payday I sent Sean a link to the engagement ring I wanted. In September 2018 we booked a weekend away in Rome. As Sean knew it is my favourite place in the world, I knew I would get my ring there.  Far from being the romantic loved up weekend I had envisioned for us, it was a disaster. The flight was delayed, we missed the bus, our hotel was awful and we had to find a new one after midnight. On the last night we got dressed up for dinner and as we walked past the Trevi Fountain I FINALLY got my ring."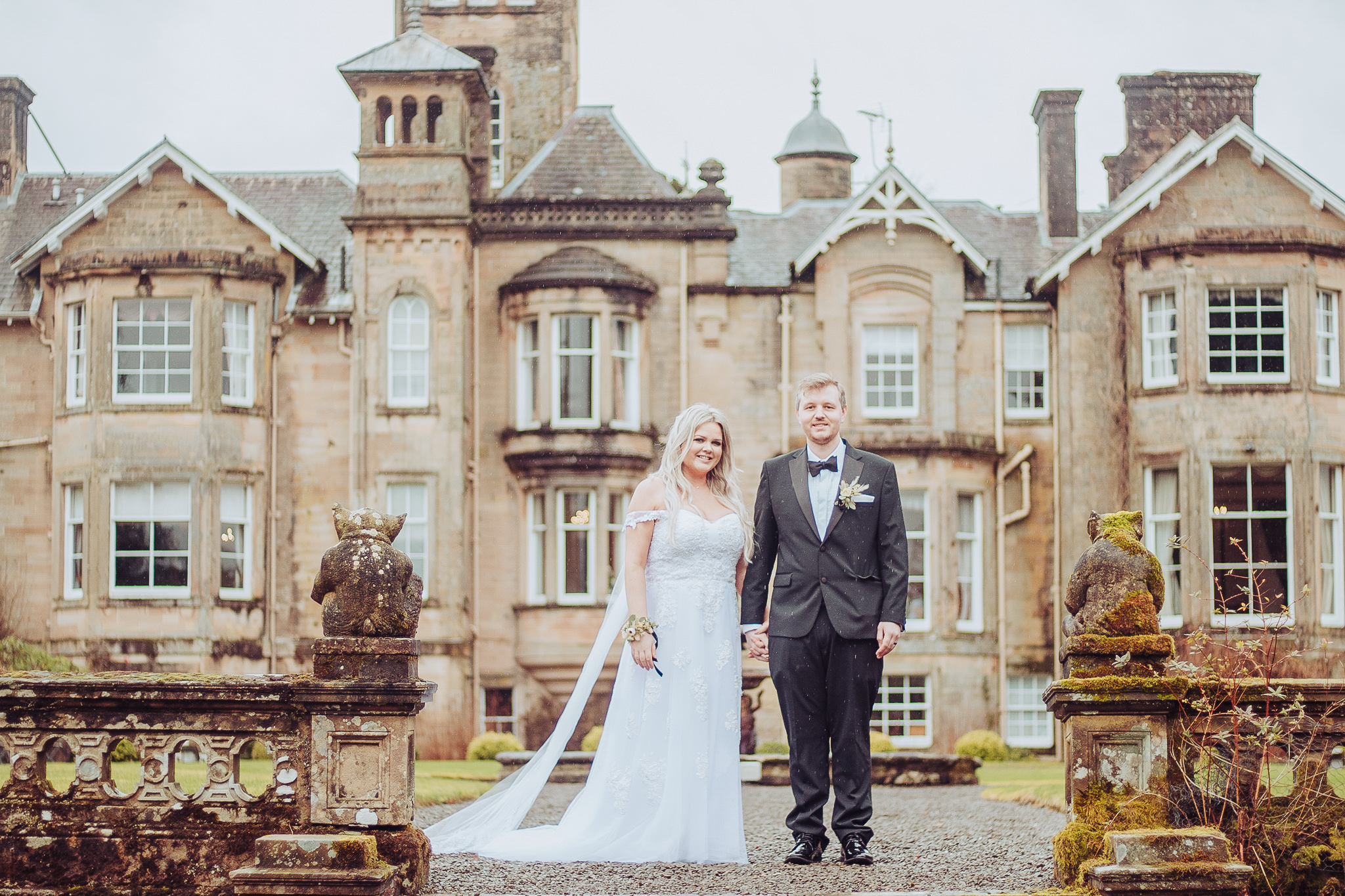 The Wedding
"We had originally booked to get married in Las Vegas, but we decided we didn't want to leave our dog Indie." Began the bride when asked about the inspiration for the venue. Indie the wee Italian Greyhound joined Laura walking down the isle and is obviously a big part of Laura and Seans life. It was only right for Indie to be the centre of attention (second to Laura of course).
Laura and Sean were joined by 41 close family and friends at a Castle ceremony followed by Sparkling Afternoon Tea in a near by Hotel. Laura and Sean agreed that an intimate Wedding suited them better after having an engagement party where they found they never got to spend much time together and Laura found that she was stressing over the silly things. By January 2019 their big day was starting to come together "We had decided we would have a small wedding and that my friend Sandy Jamieson Minister of The Lighthouse Church Dumfries would conduct the service. Auchen Castle was the first and last venue we viewed. I thought a castle suited me, even if we couldn't afford the all day affair. So we booked a ceremony only package through Gretna Wedding Bureau (Gretna Green Weddings). I googled 'Afternoon Tea in Moffat' and we came across The Moffat House Hotel. We didn't try it beforehand, we just asked if they could accommodate 40 guests for afternoon tea and they said yes, although no one had ever asked them that before! That gave us 9 weeks to sort everything else out. (This worked out really well for us because once we had made a decision we had to stick with it.)"
"We didn't decorate anything. We had cupcakes made for each guest which were the favours,  place cards and obviously the wedding cake all in one. We wanted everything to be simple and easy going. My engagement ring is pink morganite with diamonds and rose gold, so we based our colour palette on that. My mum and dad surprised us with a limo (Excalibur wedding cars & Cadillacs) on the day, it was their way of adding a touch of Vegas."
After the couples Auchan Castle ceremony guests joined the Wedding party for Sparkling Afternoon Tea at Moffat House Hotel "It was delicious, we couldn't have imagined it would turn out as good as it did. We were really impressed! Then we got on the bus (Oor Coaches) to head for a small unofficial after party at The Anglers in Annan."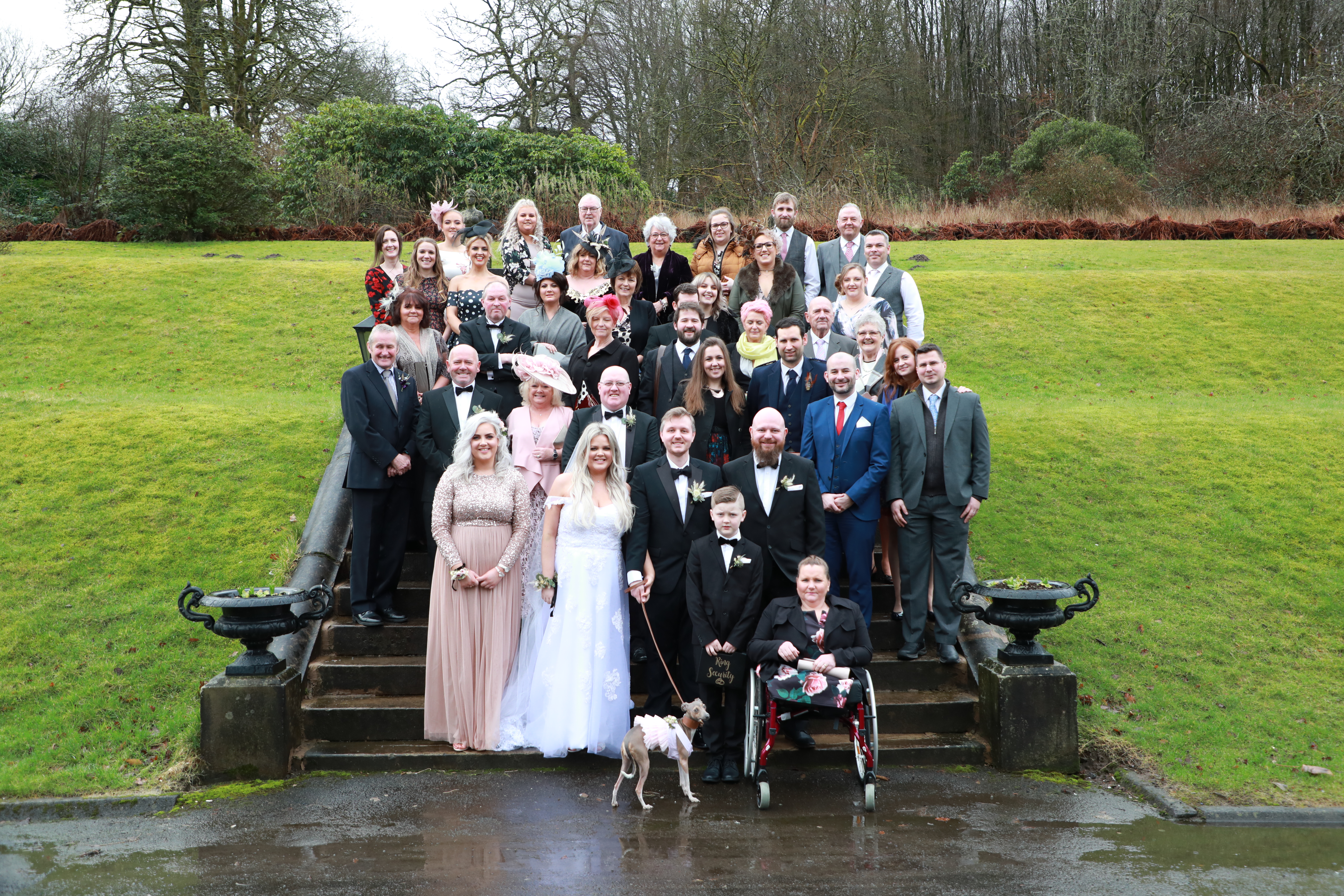 The Dress
The bridal party really brought the glamour to the day with their choice of attire "I found my dress online when I first saw my engagement ring. I didn't go dress shopping, I had previously been a bridesmaid and I remember feeling so disheartened when I had tried on the sample dresses that didn't fit.
I read through every single review and researched the seller, then I took the plunge and emailed the seller my measurements and a photograph of how I wanted the neckline changed, and then just hoped for the best. My dress actually went missing for 2 weeks due to bad weather in the USA. When it arrived it was perfect, it just needed to be taken up. Sean wore a tuxedo because that's what he would've worn in Las Vegas, and also it's a bit different.
My sister's bridesmaid dress was from ASOS. I had ordered a similar style for myself a few months before, but unfortunately the style didn't suit me. I loved the dress and I was delighted that it did suit my sister."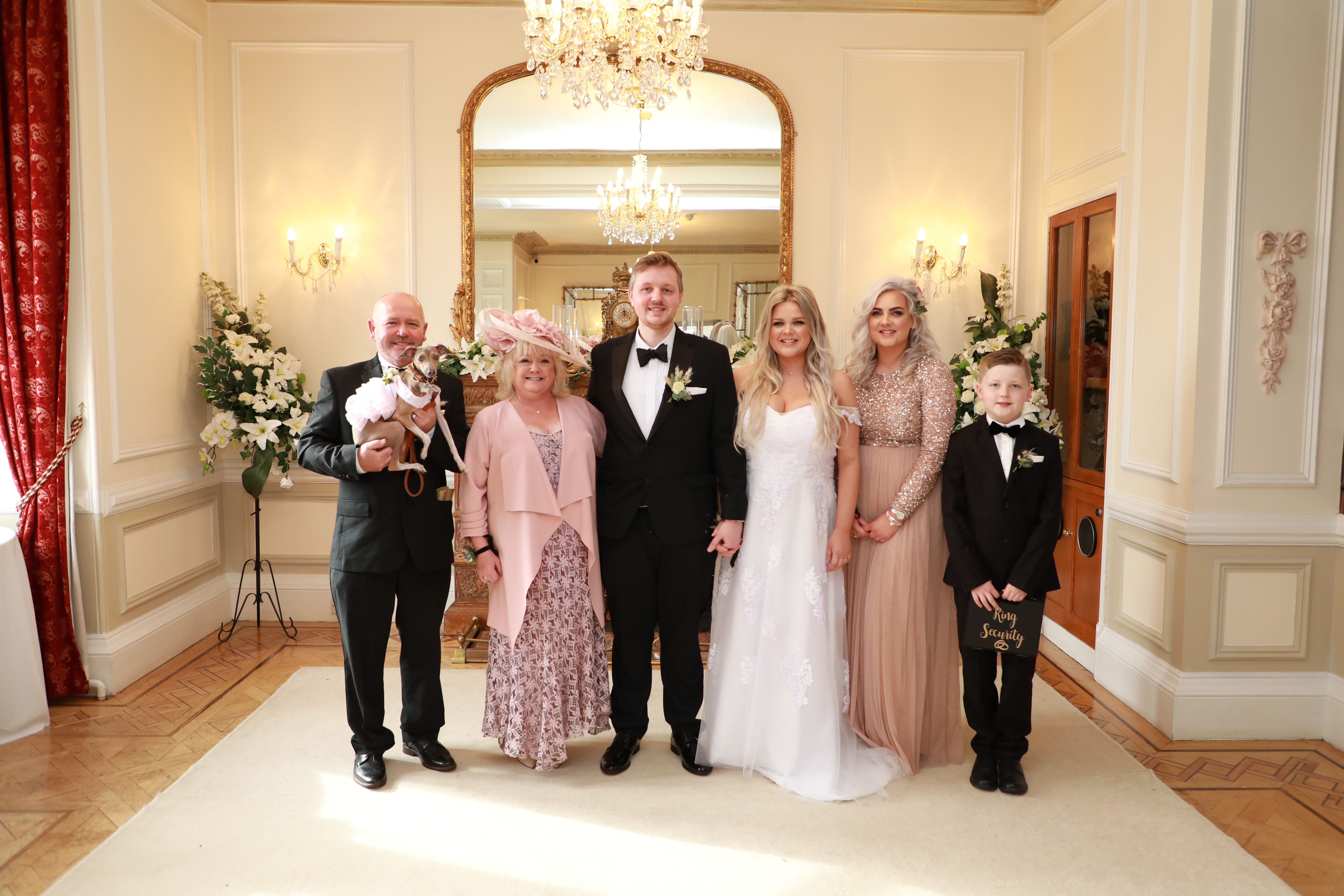 The Make-Up
When Rebecca and I dropped off Lauras flowers she wowed us in her dressing gown with the most amazing make-up that was full on Hollywood glamour and was just a perfect reflection of Lauras personality. "I didn't have a trial, I knew I wanted glam, and Jade Jamieson MUA is THE BEST at glam. I had only been to her once before, if she hadn't been available I would have just done my make up myself. I booked her before I told any guests about the wedding so no one else could have her. I did my own hair on the day as I would rather it be a mess that was me, than feel uncomfortable all day. Overall the look I was going for was boho glam, mainly because I'm quite glamorous but messy."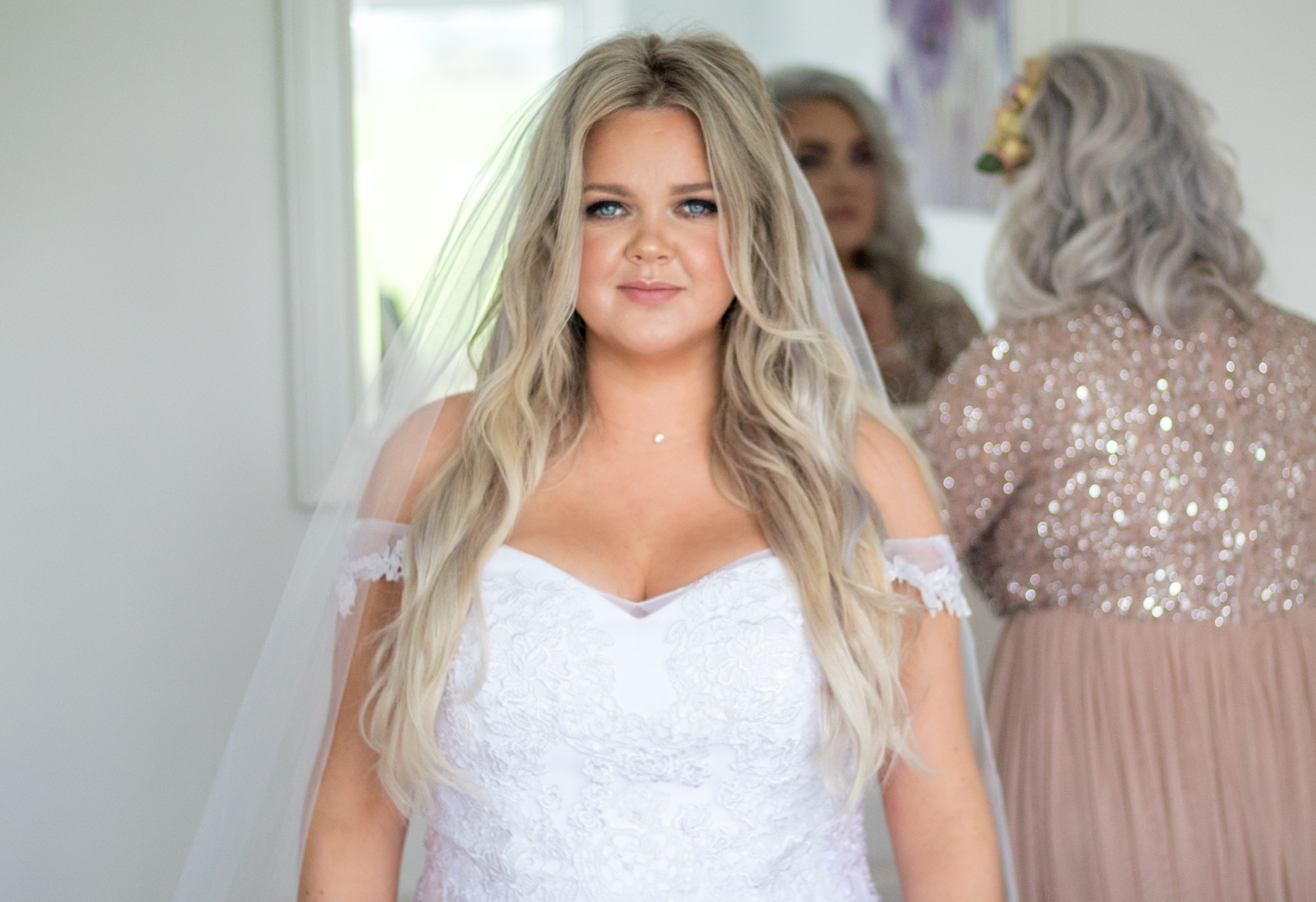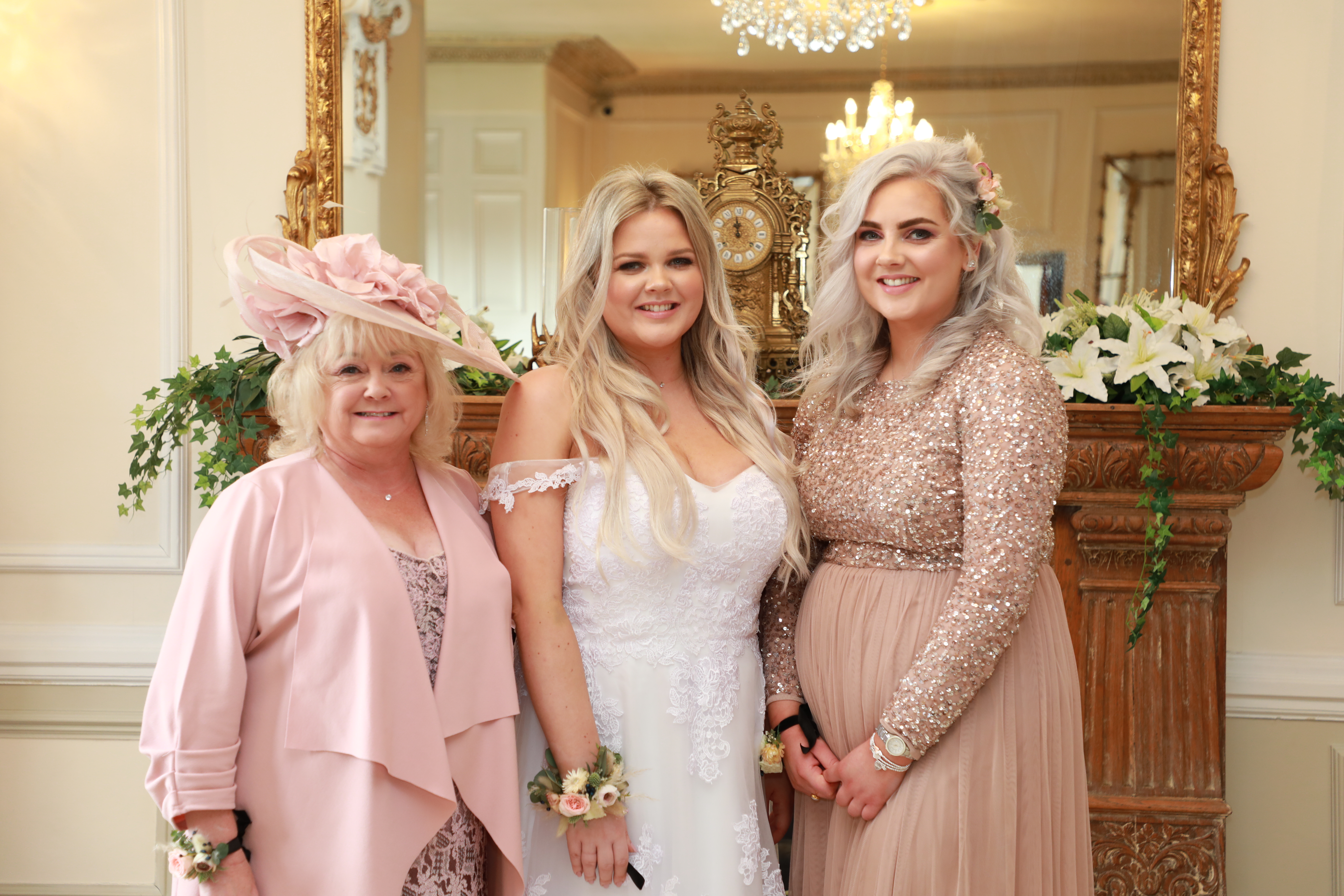 The Photography
"I generally don't take good candid shots. I really like the dramatic style, but we are a bit awkward so that would never have worked. We had the Gretna Wedding Bureau (Gretna Green Weddings) package photographer for the ceremony photographs. I really love the tone of all the colours of pink and gold, although we didn't do that on purpose. My friend Sophie Keenan photography did the outside photographs in all the wind and rain, although you would never know after she had worked her magic. I had visited the grounds of auchen castle with Sophie prior to the wedding, on a gloriously sunny day, a lot of the ideas had to be scrapped because of the weather. Every photograph she did take is epic, it's quite unbelievable what she has achieved."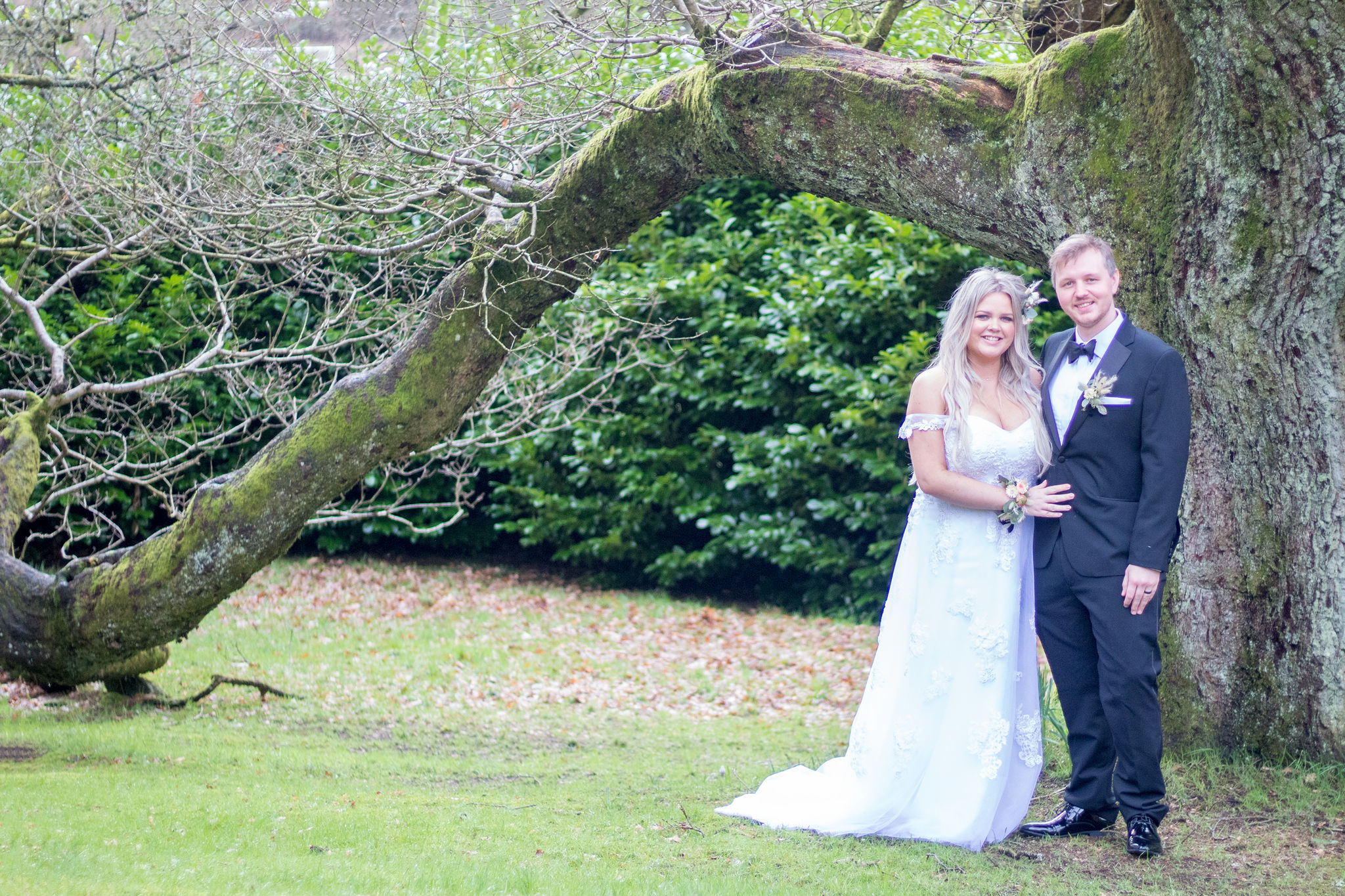 The Flowers (without a bouquet)
When Laura first contacted us about putting together her and Seans Wedding flowers we were so thrilled as we knew Laura (who had attended a dried wreath workshop) loved Pampas (one of our favourites) and we new she was bold with her choices. Rebecca and I knew it was going to be a challenge and knew if Laura didn't like what we created she would probably let us know, this may sound daunting but it was such a pleasure creating for them. It really kept us in check to make sure we really got her personality and Wedding vibe to reflect in her flowers. It never came as a shock when Laura suggested a floral bracelet after sending us lots of photos of bouquets she liked. It was really unique and different and since we published a video of the bracelet on our social media we've had a lot of interest and a few bookings based on her bespoke piece.
Laura said "I have always been inspired by Rebecca and Lucy's style, they are bold and brave with a little bit of eccentricity. When To A Mountain Daisy launched I was blown away by their work. It is all so well thought out, and unique, but also little bit wild and most importantly natural. I don't know a lot about flowers, apart from I don't like lilies, or bright colours. I first told TAMD that I wanted something wild and boho, but when they saw my dress they suggested something more romantic. (Also my idea of wild was eucalyptus and pampas, and their idea of wild was twigs) I knew I wanted everyone to match, but I struggled to articulate how. I decided I didn't want a bouquet, I wanted a corsage, but a big one, and that's how I ended up with a bracelet. My mum and sister had wrist corsages. My sister also had a hair comb.  I had a hair comb for once I had taken off my veil- again I wanted my look to be really simple, so didn't want to wear them together, but it also served to spruce up my look for the afternoon tea. Sean and our families all had button holes. I wanted my dog (bridesmaid) to have flowers, but I thought a flower crown or around her lead would be too much since she is so delicate, so I asked if flowers could be put on her dress. If I'm honest I had no idea what to expect, because I don't really think I knew what I wanted. Somehow TAMD managed to take my ideas and make something I couldn't have dreamed of. Every single piece was so intricate, and they managed to create a style that I loved. It was just all so perfect. Lucy and Rebecca kept in touch throughout the whole process, they made me feel comfortable enough to make my own suggestions and took the time to understand what I was trying to say. My flowers have dried out now and I'm so happy that I will be able to keep them forever!"
Laura and Seans bracelet, corsage, buttonholes and Indies dress piece was a very Boho mixture of dried grasses, eucalyptus and fresh flowers. The colour palette was muted creams, whites and pale pinks that tied in with Indies dress and Lauras Wedding ring while we also wanted to tie in Claires (Lauras sister) dress not to mention the striking black that the men were wearing.
Thank you so much to Laura & Sean for being such perfect clients to work with,
Lucy